Wines to Pair with Girls Scout Cookies
Have you had your fill of Girl Scout cookies yet? I hope not! This is a time-honored tradition that only comes around once a year so it's best to stop fighting it and just enjoy!
Whether you are selling or buying Girl Scout cookies, you have probably already stocked up on your favorites.
Since my daughter is selling this year, I have my stash locked away in my pantry. But this year I decided to do something different with my cookies.  I ditched the milk for my favorite wines and conducted an un-official taste-test.   And since I love wine, I decided to find out which Wines to Pair with Girl Scout cookies.
And I'm happy to report, no calories were consumed in this taste-test :)!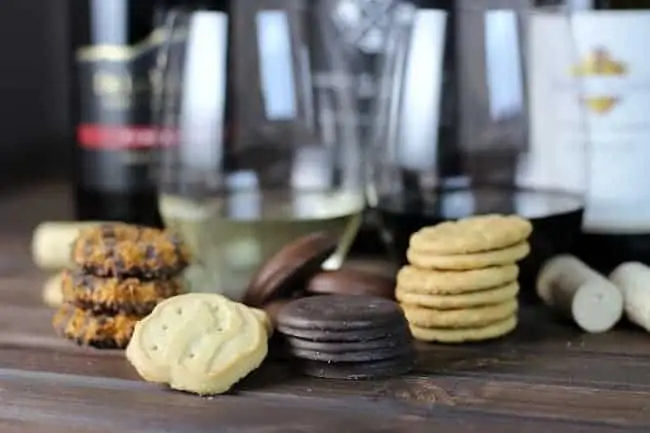 Being a very un-official taste-test, I decided to pick 5 of my favorite Girl Scout cookies and 5 different types of wines I already had in my home.
The wines included:
Santa Margherita Pinot Grigio (white, dessert wine with a hint of butter)(2013)
Kendal Jackson Chardonnay (2011)
De la Montana Pinot Noir (2013)
Souverain Cabernet Sauvignon (2013)
Robert Mondavi Private Selection Merlot (2014)
I started with the one cookie that I thought would go with the most wines….the Trefoil. This cookie is by far our most popular seller this year. It's the shortbread of all shortbreads (in the Girl Scout world anyway).
I thought it tested best with my two whites — no surprise there.
The buttery taste of the Pinot Grigio elevated this shortbread cookie to another level. It offered a little sweetness to this simple cookie.
The reason I loved the Pinot with the Trevoil is the same reason I enjoyed the Chardonnay.  It was a good mix of a plain cookie with the sweet fruit taste of a white wine.
I have a problem!  I'm addicted to Samoas! This has become my favorite Girl Scout cookie. It gives you the perfect combination of dark chocolate, caramel, coconut and cookie!
This one was easy for me! I loved the boldness of the Merlot with this cookie. And with a hint of fruit in the wine, it added another flavor to the already busy cookie. I also liked the Cab with this cookie but that is no surprise since I love red wine and chocolate period!
I thought I was going to like the dark red wines with the Thin Mints but I really favored the lighter wines with this cookie.
If I had to narrow it down to just two, I would pick the Pinot Noir and the Pinot Grigio. The mint really elevated these wines way better than the Merlot and Cab.
This is the one that really surprised me. I wasn't sure how the peanut butter would taste with any of these wines. I didn't expect to like any of the wines with the Tagalongs or Dosidos, but I did.
Again the Pinot Noir and Pinot Grigio were my favorites with this cookie. Both wines were light enough to allow the peanut butter to stand out. But the mix of peanut butter, chocolate and wine was magical!
Finally, my favorite cookie as a kid — the Dosidos.
I would eat these with a large glass of cold milk — it was perfection! But I think adding wine, gave this a completely different flavor.
I really liked this with the red wine — both the Pinot Noir and Cab. Maybe it's the heavy flavor of the peanut butter and the tannins or bitterness of the wine that made this a perfect pairing in my eyes.
Whatever wines you choose to have with your Girl Scout cookies, you can't go wrong.
Supporting the Girls Scouts is a wonderful thing and thank all of you for doing so!