Sometimes the easiest of side dishes are the best compliment to a piece of meat or fish.  This Orzo Salad with Sauteed Green Beans and Tomatoes can be served with just about anything.
If you are looking for a salad that can be served hot or cold this is it! I actually love the combination of hot and cold in this salad, especially with the lemon dressing.
I prepared the orzo and green beans at the same time in different pans. The orzo takes about 9 minutes in boiling water and the green beans take about 10 minutes in a little olive oil in a skillet.
I used about an entire pound of green beans. Washed them, cut the ends off and then cut it in half again to create bite sized pieces.
After I sauteed these green beans, I immediately put them in ice water to blanch them. This keeps them this gorgeous green color.
Once cooled, I combined the green beans and tomatoes. Then added the drained and cooled orzo.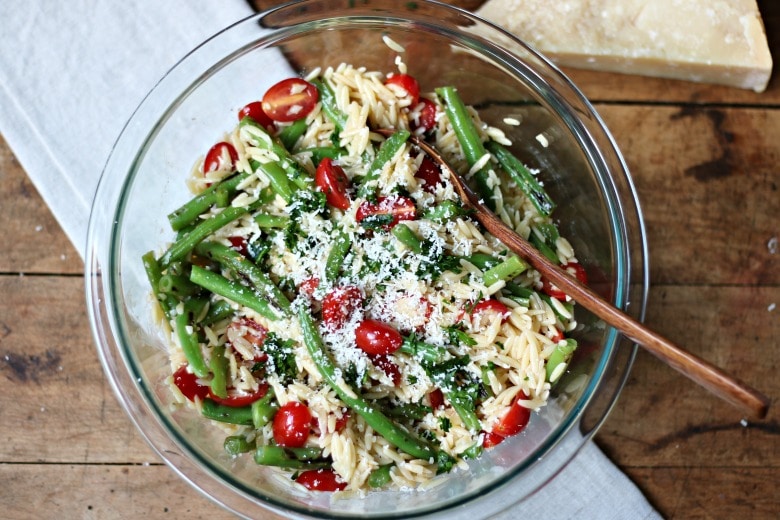 Add the lemon dressing, parsley, and some fresh Parmesan cheese.
This amazing salad is the perfect compliment to a brisket, some bbq chicken or even some fish. I love this salad for summer.
Orzo Salad with Sauteed Green Beans & Tomatoes
Yield 4-6 Servings
This light, fresh Orzo Salad with Sauteed Green Beans and Tomatoes is the perfect compliment to any summer dish.
Ingredients
10 ounces Orzo
1 lb. Fresh Green Beans, cut into 2 inch pieces
Cherry Tomatoes, halved
1 Lemon, juiced and zested
6 tablespoons Olive Oil, divided
1 Garlic Clove, minced
2 tablespoons Parsley, minced
Salt & Pepper
Parmesan Cheese, freshly grated
Instructions
Add a pinch of salt to boiling water for the Orzo pasta and cook for about 9 minutes (follow instructions on box)
At the same time, add 2 tablespoons of olive oil in a skillet and saute the green beans for about 10 minutes or until you get the desired texture you want.  Season the green beans with a little salt and pepper while it cooking
Once the green beans are finished immediately put them in cold ice water to blanch them.  This will stop the cooking process and let cool
Drain the orzo completely
In a separate measuring cup, mix 4 tablespoons olive oil, the juice of the lemon, the zest of the lemon, the minced garlic and salt & pepper
Combine the tomatoes, green beans and orzo in a serving bowl and add the lemon dressing, mix well
Sprinkle the parsley and parmesan cheese on top
Serve
Notes
You can substitute asparagus for the green beans.
Courses Salads, Sides