Chopped Salad with Maple Syrup Dressing
Nothing says "spring" more than a fresh salad full of fruits and veggies. It's light and perfect for any diet. The salad is one thing but the dressing is another. I am always on the hunt for a great salad dressing and this Chopped Salad with Maple Syrup Dressing recipe fits that bill.
Any salad with honey or maple syrup has to be good right? This one will not disappoint!
Any good salad starts with a variety of ingredients.
I am such a fan of putting fruit on a salad.  Most of the time I will put either an apple or strawberry on my salad.  It gives you a sweetness you can't get with your typical salad ingredients.  Here's my Strawberry Apple Salad recipe.  You will love this one too.
For this salad, I included Romaine lettuce, Avocados, Apples, Walnuts and Gorgonzola cheese.  A chopped salad is just that….chopped.  The lettuce will be a lot smaller than using a spring mix.
What I love about this salad is that each ingredient plays a part.  The lettuce and avocado provide the filler, the apple gives you the sweetness, the walnuts are crunchy and the gorgonzola cheese gives you a kick!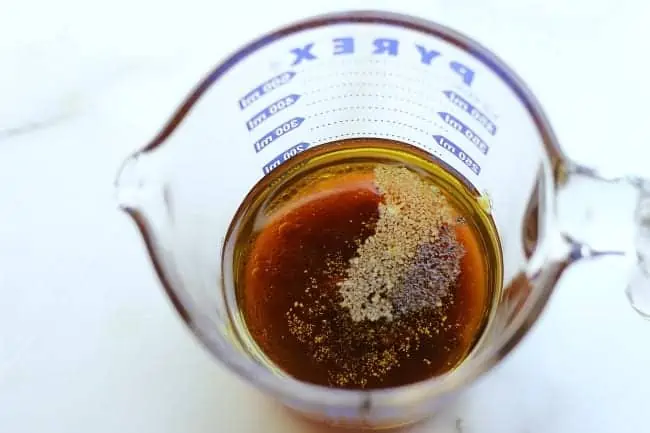 The dressing is literally icing on the cake! This Maple Syrup dressing includes the maple syrup, dijon mustard, red wine vinegar, canola and olive oil and salt and pepper.
I would say the best dressings usually have dijon mustard in it.   It gives you the bite you desire in a dressing.  I also can't have a dressing without some sort of sugar in it.  Whether it's sugar or honey or now maple syrup — these are usually my favorites.
Mix it up and pour on your yummy salad.
This Chopped Salad with Maple Syrup Dressing makes a great side salad or a meal.
And the dressing will keep for a few days so you have a week of yumminess with this dressing!
Enjoy!
Maple Syrup Dressing
Ingredients
2

teaspoons

Maple Syrup

2

teaspoons

Dijon Mustard

1/4

cup

Red Wine Vinegar

2

tablespoons

Canola Oil

1/2

cup

Olive Oil

1/4

teaspoon

Salt

1/4

teaspoon

Pepper
Instructions
Mix all of the ingredients together

Pour on salad

Refrigerate left over dressing
Recipe Notes
This recipe was first found in the cookbook "My Father's Daughter" by Gwyneth Paltrow.
For the salad, you can use any ingredients you really love!