Roasted Tomatoes with Lemon Pasta
Since finding flavored pasta at a local farmers market, we have been obsessed with the Lemon Chive pasta.  This pasta goes with almost everything including shrimp and chicken.  But I really love it with veggies so I recently made this Roasted Tomatoes with Lemon Pasta dish that was perfection!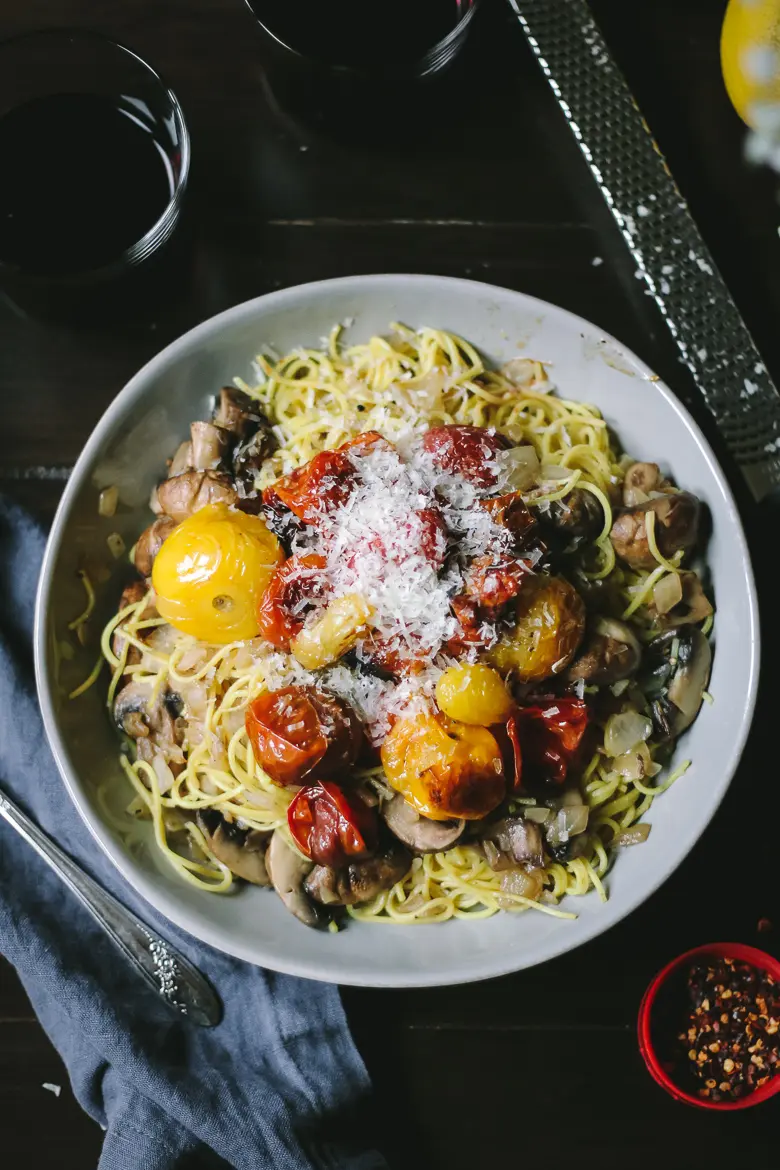 This dish of loveliness is filled with tomatoes, mushrooms, onion, and garlic.
The other benefit to a flavored pasta is that you can cut back on all the butter and oil you put into the pasta. I just use some lemon on top to season it!
I started but adding a little olive oil to some miniature tomatoes. This goes into the oven at 425° for 30 minutes.
The onions and mushrooms cooked in a little olive oil and salt & pepper to start. Then I added the garlic. I cooked the pasta in another pot but then added it to the pan with the veggies. Once I added the pasta, I used the juice of 1 full lemon to season it all. I did not put the tomatoes in the pan at all. I didn't want the tomatoes to get all runny.
The tomatoes went on top with a little fresh parmesan. Add a little wine and you have the perfect dish!  Pasta can be served with a variety of wines depending on what you enjoy.  This pasta dinner can be served with a Zinfindel or maybe a Riesling.
Roasted Tomatoes with Lemon Pasta
Add your favorite veggies to this flavored pasta for a knockout meal! This Roasted Tomatoes with Lemon Pasta is a wonderful, easy dinner option!
Ingredients
1

package

Tomatoes

Small Variety

4

tablespoons

Olive Oil

divided

1

medium

White Onion

minced

8

large

Mushrooms

cut in half

Salt & Pepper

to taste

1

clove

Garlic

minced

1

Lemon

Parmesan Cheese

fresh
Instructions
Spread the tomatoes out on a cookie sheet and drizzle 2 tablespoons of olive oil on top, covering all of the tomatoes. Put in oven for 30 minutes or until the tomatoes start to brown.

In the meantime, heat up the remaining 2 tablespoons of olive oil in a skillet and cook the onions and mushrooms until soft. Season with salt and pepper to taste. The salt will help with the water that naturally comes from the mushrooms. Add the garlic for the remaining 30 seconds.

In another pot, follow instructions to cook your pasta. If you don't have flavored pasta handy, you can use whatever you do have.

Add the pasta to the skillet with the onions, mushrooms, and garlic. Cut the lemon in half and add the juice of the entire lemon to the pasta mixture.

When you are ready to serve, add the tomatoes to the top and sprinkle some fresh parmesan on top.