Pumpkin Cake with Cream Cheese Icing
Tis the season for pumpkin!  I can honestly say it's taken a while for me to get on the pumpkin bandwagon but now that I'm on — I can't get off.  I have been trying to replicate the Starbucks pumpkin bread for so long and this Pumpkin Cake with Cream Cheese Icing is just about there — minus the nuts.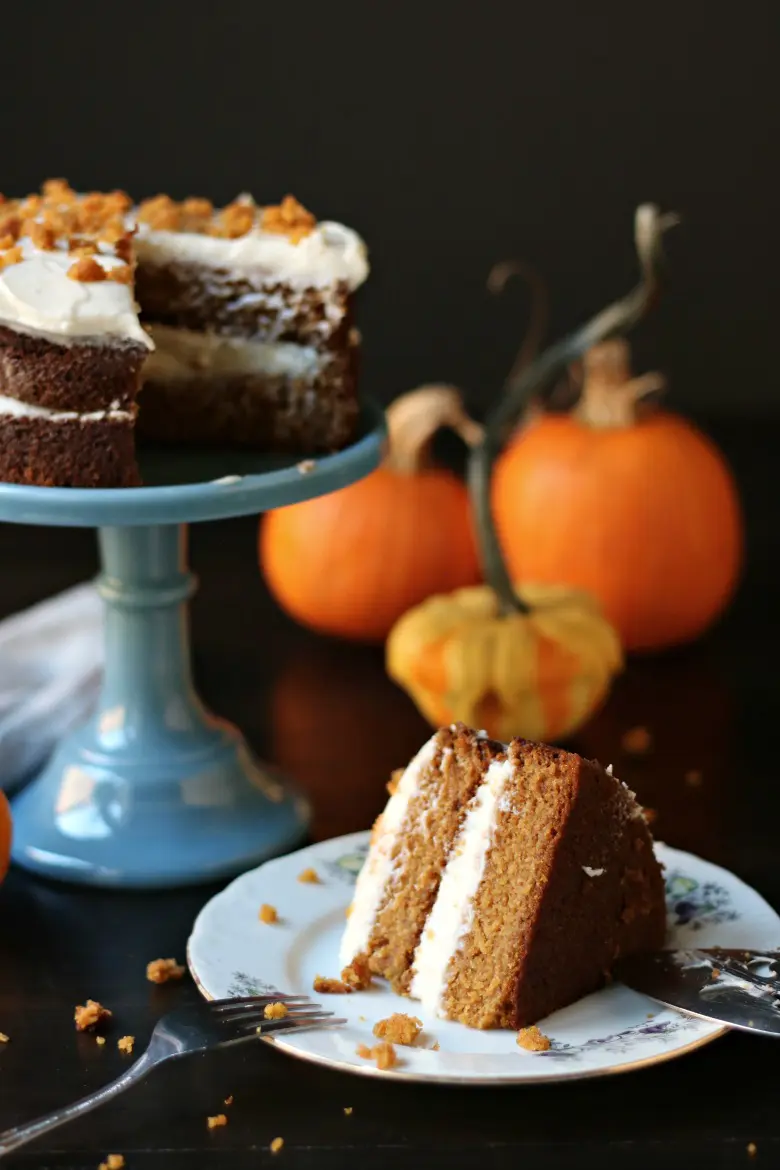 This is one of those cakes that also takes delicious without the icing. You can use this cake recipe and put it in cupcakes or even a bread pan for a simple Pumpkin cake. But I wanted to add a little extra sweetness so I went with my homemade cream cheese icing.
I used two small cake pans for this double-decker cake.
Because I wanted these cakes to sit on top of each other, I carefully sliced the top off of each for an even layer.
Layer the middle with this delicious cream cheese icing.  Then I added the second layer and iced the top.  I love this naked cake look for a dessert that doesn't need a lot of icing.  I sprinkled some of the leftover cake on top.
It's that easy and perfect for this time of year!
Pumpkin Cake with Cream Cheese Icing
Looking for the perfect fall dessert? This Pumpkin Cake is perfect on its own but when you add the Cream Cheese Icing, you have a decadent dessert!
Ingredients
1

can

Pumpkin Puree (15 oz)

2

cups

Sugar

1

cup

Vegetable Oil

4

Eggs

2

cups

All-Purpose Flour

2

teaspoons

Baking Soda

1

teaspoon

Ground Cinnamon

1/2

teaspoon

Salt
For the Cream Cheese Icing
10 1/2

tablespoons

Butter

softened

8 oz

package

Cream Cheese

1

cup

Powdered Sugar

1

teaspoon

Vanilla Extract
Instructions
Preheat oven to 350° In a large mixing bowl, beat the pumpkin, sugar, and oil.

Add the eggs and continue mixing. In another bowl, combine the flour, baking soda, cinnamon, and salt.

Add the dry ingredients to the wet and beat or mix until blended -- pour into baking dishes.

Bake for 25-30 minutes or until the toothpick comes out clean -- and let cool completely Once cooled, slice off the rounded top of each of the cakes for a smooth top.
For the Cream Cheese Icing
For the cream cheese icing, beat the butter until fluffy

Add the cream cheese, powdered sugar, and vanilla and beat until smooth If it needs to thicken up, put in the refrigerator.

If not, spread a layer on top of the first cake, add the second on top of the icing and ice the top layer. (optional) add some of the cake crumbs to the top of the cake
Recipe Notes
 This cake can be enjoyed without the icing too.  Or use the batter to make cupcakes or a bread loaf.