I'm so excited to share this pizza idea with you. I first made it on Family Food Live and had to share with you. This Green Arugula Pizza is so fresh and surprisingly tasty, you will want to make it for your family or girlfriends this weekend.
And did I mention it so simple and delicious!
It starts with a bowl of fresh arugula cleaned and dried.
I also used a pre-made pizza dough I bought on Amazon Fresh
— by the way if you haven't tried it yet, take advantage of the free 30-day trial to test it out.
I also pre-cooked this crust so it was nice and crispy. You don't ever want to put your toppings on raw dough — it's never worked out right for me.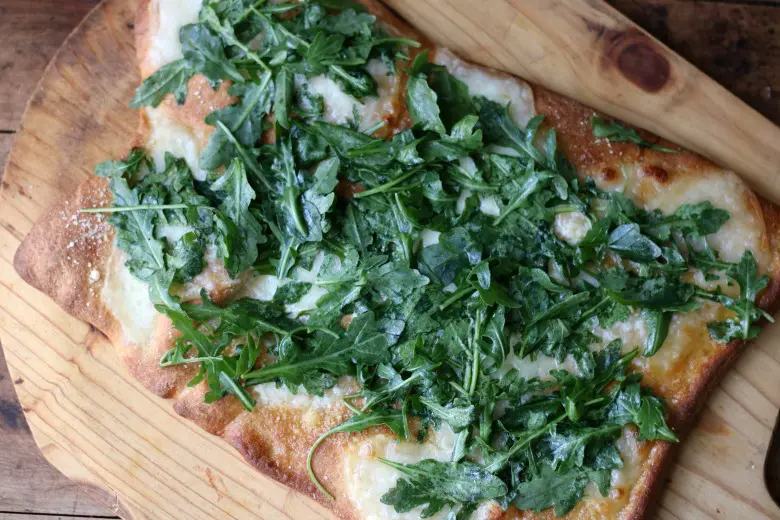 Once the mozzarella and parmesan cheese is melted, it's ready for the ultimate of toppings — arugula!
I love this Green Arugula Pizza for spring and summer. It's perfect for Friday nights!
Green Arugula Pizza
Yield 4-6 slices
This will soon be your go-to spring pizza!  This Green Arugula Pizza is heavenly!
Ingredients
Pillsbury Pizza Dough crust
Fresh Mozzarella, sliced
Olive Oil
Salt
Parmesan Cheese, grated
Baby Arugula
1/2 Lemon, juiced
Instructions
Preheat oven to 400°
Spread out pizza dough on lined cookie sheet and cook for 8 minutes until golden brown
Remove from oven and spread out mozzarella slices 
Drizzle with olive oil and a pinch of salt
Sprinkle with Parmesan cheese (fresh or grated)
Put back in oven for 5-8 minutes or until the cheese is melted
In a mixing bowl, combine arugula, splash of olive oil, pinch of salt and lemon juice 
Once cheese is melted on pizza, remove from oven and top with the arugula mixture
Serve
Notes
If you don't have arugula, you can use kale or spinach.
Courses Main Dish
Cuisine Italian