I still remember the first time I made these Black Bean Tacos. The combination of the black beans, corn, and avocado was almost perfection in a taco shell. That taco recipe actually lead to this Avocado Bean Dip recipe. I love a good dip and especially love making these spreads for a party or BBQ.
This recipe can be considered part of the guacamole family but it is very different.
Instead of mashing up the avocados, I cut these into cubes. This gives you more of a bite than a spread. I mixed this together with black beans, corn and red onion (oh how I love red onion).
What gives this spread a little kick is the flavor of the salsa verde sauce. This is very similar to salsa but it's green in color so it won't change the color of the spread.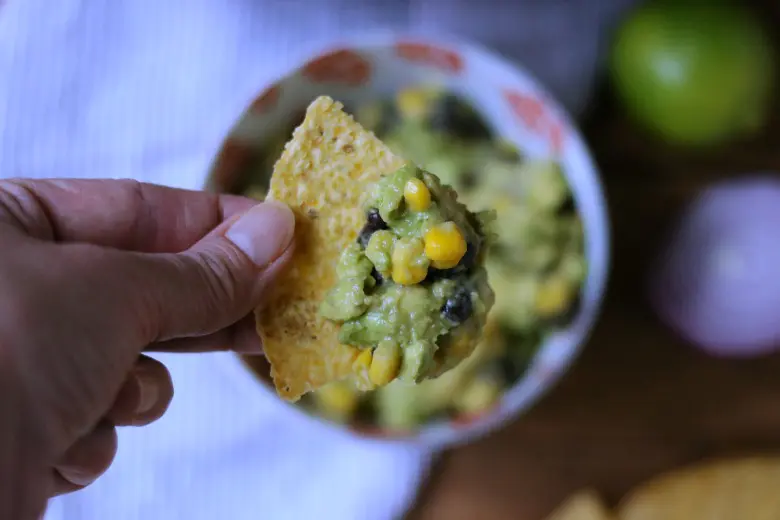 This is the perfect dip or spread for a tortilla chip or even a homemade pita chip. I would also fill a soft tortilla with this mixture to make a Black Bean Taco!
Avocado Bean Dip
Yield 3-6 Servings
If you are looking for a new spin on guacamole, this Avocado Bean Dip is that dish.
Ingredients
3 Avocados, cubed
1/2 can Corn, drained
1/2 can Black Beans, drained and rinsed
1/3 cup Red Onion, Chopped
1/2 cup Salsa Verde
Tortilla Chips
Instructions
In a mixing bowl, combine avocados, corn, black beans, and red onion
Add the salsa verde and stir
Serve with tortilla chips or tortillas
Courses Appetizer
Cuisine Mexican