No-Bake Peanut Butter Balls
I have to admit, food is becoming all about convenience these days! I love something easy and that I can eat over and over again! That is what I think about these No-Bake Peanut Butter Balls recipe. I love these for breakfast, an afternoon snack or a road trip.
The first time I had these No-Bake Peanut Butter Balls, I was relaxing at a spa so it also brings back great memories of taking it easy. Oh did I mention these are extremely good for you!
Don't be intimidated by the ingredients! This recipe is really easy and once you pick up these ingredients, you have them for future batches of this delicious snack.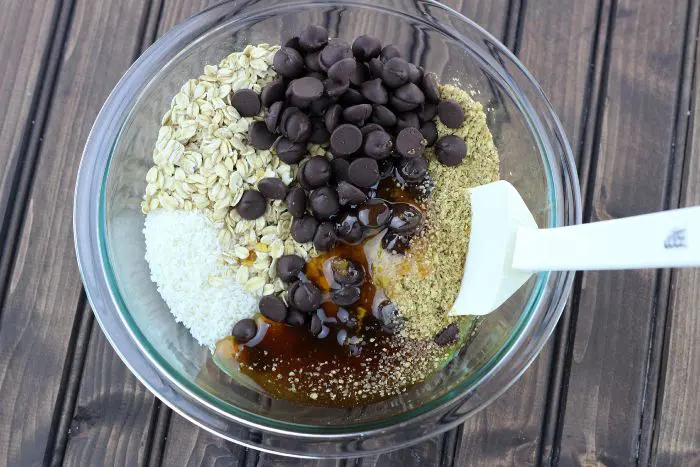 Ingredients:
Dry Oatmeal or Rolled Oats
Toasted Coconut Flakes
Peanut Butter
Wheat Germ or Ground Flaxseed
Chocolate Chips
Honey
Vanilla
Carefully mix together all of the ingredients. I say carefully because it's easy to do a hard mix and all of the ingredients go flying out of the bowl. So carefully mix everything together. Then you will put the mixture in the refrigerator for at least a half hour. You want these ingredients to bind together so it's easier to make into balls.
So once it's cooled down, roll into bite size balls! It's as simple as that. You will want to keep these in the refrigerator for up to one week. Trust me — these won't last a week. This mixture makes up to 20 balls depending on how big you make them. You owe it to yourself to make this recipe at least once to see how you like it!
Enjoy!
No-Bake Peanut Butter Balls
Ingredients
1 cup Dry Oatmeal or Rolled Oats
2/3 cup Toasted Coconut Flakes
1/2 cup Peanut Butter (soft and creamy)
1/2 cup Wheat Germ
1/2 cup Dark Chocolate Chips
1/3 cup Honey
1 tsp Vanilla Extract
Instructions
Stir all ingredients together in large mixing bowl - its best to roll the ingredients together so you don't stir too hard
Let chill in refrigerator for at least a half hour to allow the ingredients to bind together
Roll into 1-inch balls (or whatever size you desire)
Store in air-tight container in the refrigerator for up to 1 week
Enjoy!
Notes
There are so many ways to play with this recipe. You can add ground flax seed instead of wheat germ. Add raisins instead of chocolate chips. The variations are endless.
https://kindlysweet.com/2016/07/05/no-bake-peanut-butter-balls/