Roast Chicken with Red Potatoes!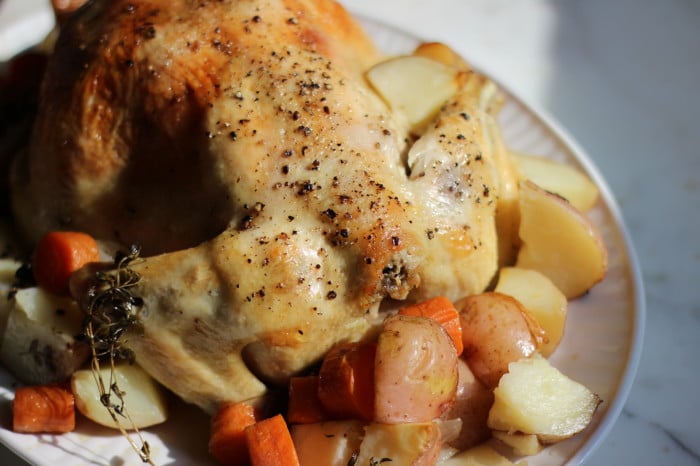 Roast Chicken is in my top 5 meals…of all time!  I wanted this to be one of my first posts on burnt macaroni because I think it's such a hard thing to make (or at least it's perception is that it's hard).  I usually just buy the pre-made chicken's at the store, but I think it's about time I make my own.  My mom is actually very good at making roast chickens, she makes it all the time.  So now was the perfect time to do it on my own.  The only obstacle, having to handle a raw chicken (not my favorite thing to do).
After you take out all the insides of the chicken, you wash it with cold water and towel dry.  The flavor of the chicken is determined by what you put inside the bird.  This recipe calls for a lemon, garlic, thyme and salt and pepper.
The outside of the bird is simply melted butter and salt/pepper!
A big part of the flavor also comes from what you put in the roasting pan!  I chose to put in red potatoes to make this a full meal.
Cook for about 1 1/2 and you have an instant meal!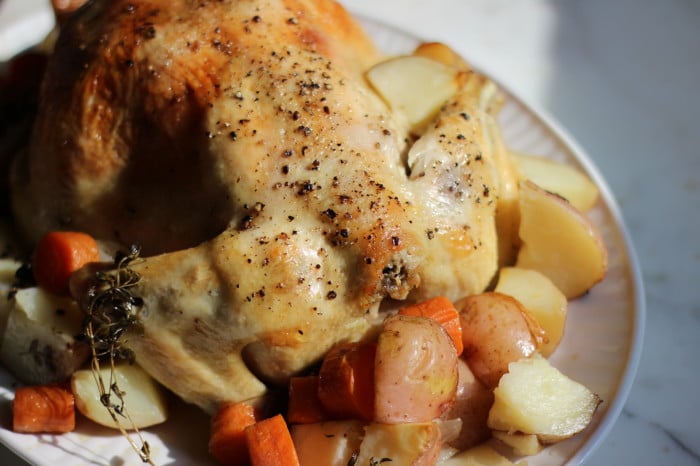 Roast Chicken with Red Potatoes!
Cook Time
1
hour
30
minutes
Total Time
2
hours
15
minutes
Ingredients
1

5-6 pound Roasting Chicken

1

Lemon

halved

1

large bunch fresh Thyme

plus 20 sprigs

1

head Garlic

cut in half crosswise

1

large Yellow Onion

thickly sliced

2

large Carrots

cut into chunks

3

medium Red Potatoes

cut in quarters or smaller

2

tablespoons

Butter

melted

Kosher Salt

Freshly Ground Black Pepper

Olive Oil
Instructions
Preheat oven to 425 degrees

Remove chicken giblets

Rinse chicken inside and out, pat dry with paper towel

Salt, pepper the inside of the chicken

Stuff the chicken with lemon, thyme, garlic

Brush outside of chicken with melted butter, sprinkle with salt and pepper

Tie the legs together with kitchen string

Place onions, potatoes, carrots, 20 sprigs of Thyme, salt, pepper and olive oil in pan around the chicken

Roast chicken for 1 1/2 hours or until juices run clear when you cut the leg

Remove chicken and veggies and cover with aluminum foil for 20 minutes

Serve hot
Recipe Notes
This recipe was adapted from The Barefoot Contessa Cookbook. In the original recipe, Ina Garten uses fennel instead of potatoes.