Radish Salad with Feta Cheese
There is something a little fun and exciting about putting together a new salad idea. I love being able to try new things and experiment with different veggies. That's how this Radish Salad with Feta Cheese recipe came about. I gathered all the veggies I had in the fridge and starting putting it together.
It was so yummy, I had to share!
The salad ingredients are extremely important for the recipe, but the dressing is almost as important. I love a simple balsamic vinaigrette dressing to go with just about every salad idea.
For this salad, I started with a few radishes. My husband loves eating radishes so I had a ton already on hand. I sliced these up along with some red onion, arugula, and spinach.
I roasted 2 tablespoons of pine nuts to add a little crunch to the salad. The feta cheese is the perfect cheese for this salad because it's not too soft or too hard.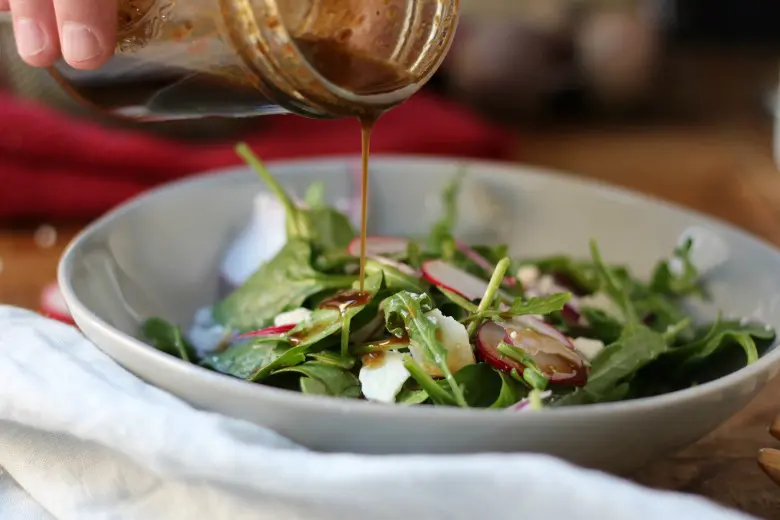 Once mixed up I added the vinaigrette and dug in!
This is the perfect amount of ingredients if you are going to eat a salad as a meal. It could also work as a side salad for two.
It's fun experimenting with a salad!
Radish Salad with Feta Cheese
Yield 2
Create a one-of-a-kind salad by experimenting in the kitchen.  This Radish Salad with Feta Cheese is a masterpiece!
Ingredients
For the Salad
4 medium Radishes, sliced thin
2 tablespoons Pine Nuts, roasted
3 cups Arugula & Spinach
1/2 cup Red Onions, roughly chopped
1/4 cup Feta Cheese
For the Balsamic Vinaigrette
1/4 cup Olive Oil
1 tablespoon + 1 teaspoon Balsamic Vinegar
2 teaspoons Honey
1 teaspoon Dijon Mustard
1/8 teaspoon Salt
Pepper to taste
Instructions
In a mason jar, combine all of the ingredients for the Balsamic Vinaigrette and shake
In a bowl, combine all of the salad ingredients
Pour the dressing over the salad and serve
Courses Appetizer
Cuisine American