Tomato Linguine with Goat Cheese
To say I love a good pasta recipe is an understatement.  I feel like you can put just about anything in a bowl of spaghetti or linguine, add a glass of wine and you have the perfect meal.  Usually a recipe like this takes very little time, but this recipe calls for the tomatoes, basil, garlic and cheese to marinate a little.  Trust me — it's worth the extra time.  The flavors are really sophisticated! 
So you are going to start by putting your tomatoes cut into cubes, fresh basil cut into strips, minced garlic and salt and pepper into a mixing bowl.
  Add your olive oil and let sit for at least 2 hours but up to 8 hours.  Keep this at room temperature you don't want to put it into the fridge.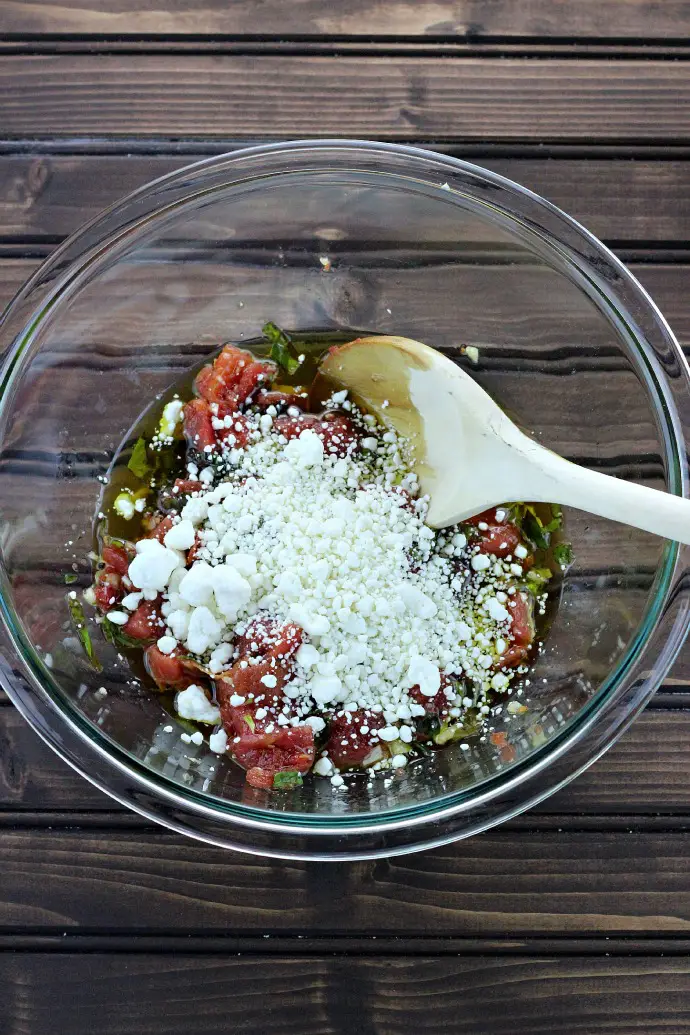 You will add your cheese about halfway through.  Make sure your goat cheese is cold.  Goat cheese is usually kept in the fridge but if the cheese is too soft, put it in the freezer for about 20 minutes.  You can also use Brie cheese and this will definitely have to go into the freezer so it doesn't melt too soon.  You want the cheese to absorb the flavors of the mixture.
You can use any pasta you want. I used linguine. You always want to slightly undercook your pasta so it's not too soft. Once you cook your pasta, add the marinated mixture to the bowl.
Mix everything together and serve.  You can see the cheese starts to melt in the hot pasta.  This is what makes the pasta really creamy.
Serve with a glass of red wine and some bread.  You can even serve a salad or add chicken or shrimp to the dish.  It's a really simple recipe that will make a huge impact on your family or friends.  Enjoy!
Tomato Linguine with Goat Cheese
Prep Time
2
hours
30
minutes
Ingredients
2

Tomatoes

(medium size) cut into 1/2 inch cubes

1

pound

Goat Cheese

cut into cubes

1/2

cup

Fresh Basil

cut into strips

2

Garlic cloves

minced

3/4

cup

Olive Oil

Salt & Pepper to taste

1

pound

Linguine
Instructions
Cut Goat Cheese into cubes and put into freezer for 20 minutes

Combine Tomatoes, Basil, Garlic, Salt & Pepper and Olive Oil in mixing bowl and let sit for at least 2 hours but up to 8 hours at room temperature (don't put in fridge)

Add Goat Cheese about halfway through your marinading process

Cook pasta aldente (undercooked), strain and put into mixing bowl

Add the marinading mixture and toss

Serve immediately
Recipe Notes
There are so many ways to change up this recipe. Add your favorite cheese like Brie, Goat or Feta cheese. You can also add chicken or shrimp.